Press
Block.one Introduces EOSIO for Business
Launch of Blockchain Hosting, Technical Support, Developer Training & Certification, and Customized Development Solutions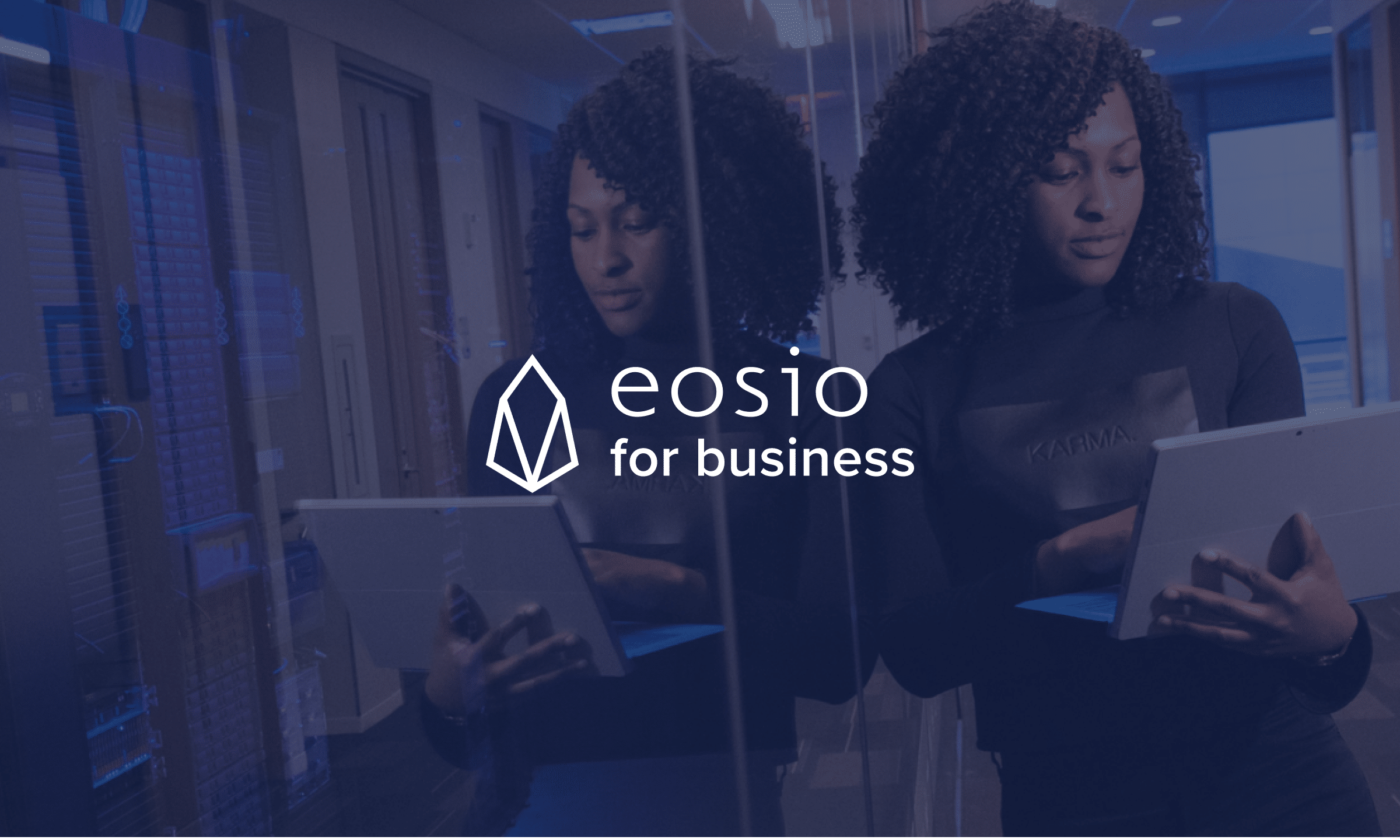 October 15, 2020 – Block.one today announced a new suite of enterprise service offerings designed to help organizations integrate blockchain-based solutions into their operations. The four new offerings will leverage Block.one's performance-focused EOSIO software and will include Blockchain-as-a-Service (BaaS), 24/7 technical support, developer training and certification programs, and custom consulting and development solutions.
As enterprise digital transformation continues to drive corporate growth, organizations are exploring blockchain-based solutions for more reliable, secure and transparent data infrastructure. This accelerated interest and adoption has left a growing gap in both technical expertise and resources needed to effectively incorporate blockchain solutions. Block.one's EOSIO for Business is focused on closing this gap with simple yet powerful solutions that allow businesses to stay focused on what they do best.
EOSIO is the leading blockchain platform designed for high performance, scalability and ease of use. It utilizes proven design patterns and technologies such as event sourcing, web assembly and in-memory multi-index databases. Developers are empowered with the ability to leverage decades of development in C and C++ libraries without the traditional downsides of memory management. EOSIO developers can build highly scalable and fast blockchain-based applications without having to learn any additional programming languages, enabling them to prioritize what matters – their business logic – while it takes care of providing the blockchain benefits of determinism, auditability, replicability, immutability and cryptographic security.
"Despite the high and growing demand to incorporate the benefits of blockchain technology within new and existing business operations, many in-house product engineering teams are wary of the complexity involved in setting up and administering their own blockchains," said Brendan Blumer, CEO at Block.one. "EOSIO for Business is a holistic set of products designed to help organizations of all sizes capture the benefits without the complexity."
"Our EOSIO for Business customers will be able to work directly with EOSIO experts to ensure that their implementations seamlessly integrate with their existing technology," said Ted Cahall, COO at Block.one. "Business clients will also have access to the newest EOSIO features and upgrades – all of which are designed to enable their development teams to remain focused on their own business priorities while leveraging Block.one's specialized experience in delivering world-class blockchain innovation."
The four major components of EOSIO for Business include:
EOSIO Premier Technical Support: Enables companies to easily identify support tiers that suit their needs in outsourcing troubleshooting and technical assistance in order to launch and maintain operations for an EOSIO implementation.
EOSIO BaaS: An automated blockchain platform fully managed by Block.one, EOSIO BaaS allows companies to leverage blockchain technology without having to dedicate internal resources to ongoing maintenance.
EOSIO Consulting: Offers direct access to EOSIO engineers to identify, architect and implement client blockchain solutions including design and implementation of EOSIO smart contracts.
EOSIO Training and Certification: Comprehensive courses covering the foundations of EOSIO, smart contract programming, application development and security best practices for integrations.
Clients are already benefiting from Block.one's enterprise support. Mythical Games, the game technology studio on the Forbes "Disruptive Technology Companies to watch" list, uses EOSIO for Business services to create digital ecosystems around player-owned economies.
"At Mythical, we are redefining game economies and creating new revenue opportunities by putting more power and ownership in the hands of players and content creators," said Rudy Koch, Co-founder and SVP of Business Development at Mythical Games. "EOSIO is an integral part of our efforts. Leveraging Block.one's EOSIO BaaS service enables us to continue delivering world-class game technology products to our players and partners."
To learn more about Block.one's enterprise services, visit EOSIO for Business.
About Block.one
Block.one is a software firm specializing in high-performance blockchain technologies. A pioneer in distributed ledger innovation, Block.one develops the EOSIO open-source software, which is widely regarded as the market leader for blockchain power and scalability. Companies and developers around the world use EOSIO to create secure, transparent, and performant digital infrastructures. 
Block.one is committed to empowering society by providing technology and products that enable trust in transactions, transparency in systems, and efficiency in how the world works. To learn more, please visit b1.com.
Contact
media@block.one
Disclaimer
Important: All material is provided subject to this important notice and you must familiarize yourself with its terms. The notice contains important information, limitations and restrictions, relating to our software, publications, trademarks, third-party resources and forward-looking statements. By accessing any of our material, you accept and agree to the terms of the notice.